I'm a part of the Authors in Bloom Blog Hop which is running from April 10-19th. Join the fun, get gardening tips, recipes and a chance to win gifts at each stop as well as a special Grand Prize (details on the Authors in Bloom main website. Just click the link on the left!)
So here is the scoop for my site!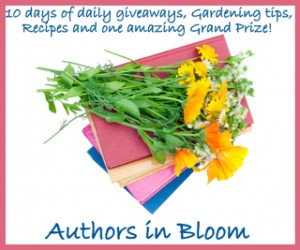 I'm giving away a $10 gift certificate to Amazon or B&N. Your choice.  The decision is all yours if you are randomly selected. It's easy to join in on the fun. Just leave a comment along with with your email.
Please use the following format example to go by:
kara-(at)-karashleydey-(dot)-com
This will help to prevent unnecessary filters from putting your comment aside for moderation. If this happens, though, don't worry. I will be monitoring your comments throughout the ten days and post those that fall through the cracks. 🙂
I'd love to share a great salad that is requested often at parties:
RECIPE: SPRING INTO SUMMER SALAD
2 packages of pre-washed Spring Salad Mix
1 half yellow pepper, cut into long slices
1 half orange pepper, cut into long slices
1 medium sized cucumber, skinned and cut into slices
1 package shredded cheese–your choice
1 small container of feta cheese, crumbled
1 cup dried cranberries (infused with blueberry is my favorite)
2 cups herb croutons
Honey Mustard Salad dressing to taste (I use Ken's Steak House)
Optional — honey roasted pecans
Combined all ingredients and chill.
GARDENING TIP — ORCHIDS
I had such a terrible time keeping my orchids alive until my hair stylist gave me this tip:
Once every two weeks, gently take your orchid out of its container (if it does not have proper drainage) and saturate with water, allowing all access to drain for several minutes. The object is to water your orchid without drowning it. Make sure there is no excess water. Place orchid back into its pot. The best place to display your orchid is on the west side of your house, for the sunset's rays. So far this has worked really well for me.
Thanks for stopping by and leaving a comment. To be eligible for the Grand Prize of the Blog Hop, make sure to check out all the other blogs here: http://www.inlinkz.com/wpview.php?id=230445
-Kara xxooxx