VERY HAPPY to have Angela Smith stopping in today for this interview. Read and enjoy! And don't forget to check out her latest news and her giveaway! Rock on! –Kara xxooxx
ANGELA SMITH–WRITER
Have you ever had to kill off a character? How did you make that choice? Or was that choice taken from you by the story/characters?
I have killed off a character.  He was a secondary character, but it still wasn't easy.  I had no choice in my decision because the story and other characters made it for me.  
.
Have you fought with your characters? Who usually wins?
Oh yes.  I will have an idea of how the story is going to go, but they won't budge.  Sometimes I'll get stuck for days and I know if I don't go back and change some things, the story is a lost cause.  They always win.
.
What genres (or sub-genres) have your explored? Which do you find the most challenging? Why?
I've explored inspirational and young adult, and those are pretty challenging because they aren't my main passion and I don't know as much about writing them.  Still, as long as I let the characters speak for themselves, the story will usually move along.  I've tried writing straight mainstream, but romance always tends to slink into the picture no matter what.
.
Which sub-genre of Romance do you feel the most comfortable writing in? Why?
Suspense.  I think it's because I've always gravitated towards reading suspense, and then I became a paralegal in a District Attorney's office, which is centered on law and full of mystery.  Though I'm not a super sleuth, I've always liked trying to solve things.
.
How do you know when you've hit your zone?
because I can write for days and it's the best feeling in the world.
 .
What is your favorite part about developing your characters? Why?
I love doing character interviews for them when I'm first developing my stories.  I'll do a collage of them and their life story.  Doing the research of who they are and who they'll become is amazing and fun and motivates me to tell their story.
.
You've got a pen and paper in hand, but no story. At that moment, do you free-write or doodle?
Free-write.
.
Tell me about your book. Why did you write this particular story? Was it simmering peacefully on the back burner or did it startle you like a kitchen flash fire?
Hmm, good question.  It wasn't exactly a kitchen flash fire or a simmer.  I'd say I turned on the stove with my idea and let it boil for a while, then turned it to simmer for a bit.  Something spilled, fire erupted and the only way to put it out was to start writing.  The main essence (woman inherits condo) stayed the same but everything else changed.
Thanks so much for the interview, Angela! –Kara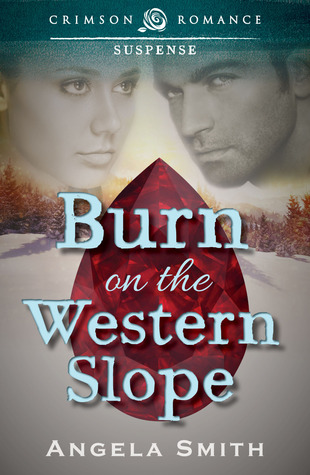 AUTHOR: Angela Smith
PUBLICATION DATE: July 15, 2013
GENRE: Romance
Reagan McKinney is on a mission to discover more about a deceased uncle who mysteriously left her a sizable inheritance, a condo in the mountains, and a stash of stolen jewels. With both her graphic design career and her love life in shambles, the opportunity to begin a new life couldn't have come at a better time. When she becomes involved with the sexy FBI agent next door, she finds her struggle is not only to keep her heart intact, but her life. Grief stricken after an undercover investigation ends in the death of his partner, FBI Agent Garret Chambers goes home to find solace in the arms of his mountain retreat.
That is, until his boss assigns him to investigate the spirited brunette staying in the condo next door. He is assigned to investigate Reagan's involvement with a large jewel fencing organization, but his investigation becomes comprised when his attraction to her heats up. Will his discovery destroy everything he has come to love, including Reagan?
In high school, I was dubbed most likely to write a novel because I always had my nose stuck in a book. I'll never forget the day the history teacher told me to finish my page and put down the novel romance I had hidden behind the history book that he was lecturing us on. I thought it was cool of him to let me finish my page, LOL! Of course, I closed the paperback right then. I was way too nervous to finish reading with all eyes on me.
Most people didn't know back then how much I wanted to write, and now it's no secret. I've always loved reading about the adventure of love, and getting involved in the legal field developed my love of suspense. I believe the whole act of love is a mystery that most people have trouble resolving, so now I work on resolving the mystery of love for my characters. It might be the only thing in life I can solve!
I work full time as a certified paralegal and spend my nights writing my next scenes.
GIVEAWAY–$15 Amazon Giftcard or PayPal Cash