I am very pleased to have Sally on Dey For Love today! Enjoy!
For love of vintage: why I brought romance out of the closet
Beaded shifts. Hats. Tassels. Ooh la, la!
If I had my way, my wardrobe would overflow with dresses straight out of Ginger Rogers' movies, gowns borrowed from Downton Abbey's Crawley sisters, and the kind of gloriously decadent, embroidered silk robes like those popular with early 20th century Bohemians. Trouble is, I'm a tall woman built on sturdy scaffolding—hard to fit, even in contemporary fashion.
…which helps explain why I wrote Isabelle Caine, the curvy heroine of my new book, Flushed, as a die-hard collector of vintage clothing.
Though she's not a film star or even a wealthy woman, Isabelle favors jeweled buttons and other marks of bygone glamor. For her first date with hero Kim, she dons a slip dress that wouldn't be out of place on a young Gloria Swanson. [For fun, I made a Pinterest board of Isabelle's wardrobe. You can see it here: http://bit.ly/1fn5ak3 ]
The closest I've gotten to Isabelle's kind of glamorous, ladylike dressing was an intricately-layered lace petticoat I found in a vintage store when I was in college. I blew most of a semester's spending money for it. Thanks to its drawstring waist, I could persuade it to fit my non-corseted self. Wearing it beneath a skirt made me feel all kinds of feminine.
Incidents like that are rare. Mostly, I settle for vintage accessories rather than try to find something to fit a 21st century giantess. Funky costume jewelry and luxurious scarves are the order of the day, including a gorgeous embroidered, fringed shawl that belonged to my grandmother, and even one of Grandma's fur collars.
And check me out in the fedora I bought years ago in a vintage shop (photo). I love this hat!
For all that it was fun to give Isabelle all the clothes I wish I could have for myself, it's not all about wish fulfillment. Her sense of fashion reflects a preference for classic, well-established values. You could say she's a little stuck in her ways. Thankfully, she makes it look good—at least until her carefully ordered life comes apart at the seams (because this is a romance novel, and you know the characters are going to go through the wringer).
What about you? Have you ever shopped vintage? Are there styles that you consider wildly feminine? What kind of fashion spills out of your fantasy closet? Ooh la, la!
♥♥♥♥♥♥♥♥♥♥♥♥♥♥♥♥♥♥♥♥♥♥♥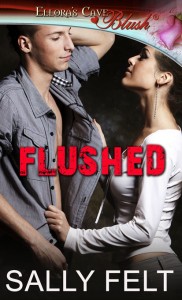 When it hits the fan, he's your man.
Kissing her plumber in the middle of her dinner party wasn't in Isabelle's carefully-laid plans. But neither had she expected an ambush by her uninvited ex. So when Kim Martin, plumber to the rescue, charms her guests and poses as her new guy to spare her humiliation, she gets carried away.
At first, being Isabelle's faux beau suits Kim Martin just fine. She's hot, intriguing and won't get in the way of his plans to blow town and build a business he's passionate about. But Isabelle just isn't cut out to be a good time girl. She gets under Kim's skin and into his head—and he's not entirely sure what to do about that.
Isabelle's been fooled too often to trust a gorgeous flirt like Kim. Yet the more she tries to fit him into a box, the harder he fights his way out of it. Hot, bothered and more than a little flushed, she's having trouble keeping her hands—or her heart—to to herself. 
♥♥♥♥♥♥♥♥♥♥♥♥♥♥♥♥♥♥♥♥♥♥♥
Buy Flushed
Ellora's Cave: http://www.ellorascave.com/flushed.html
Amazon: http://amzn.to/KEXBHW
Barnes & Noble: http://bit.ly/1aVvxq5
Kobo: http://bit.ly/1mHv9Rt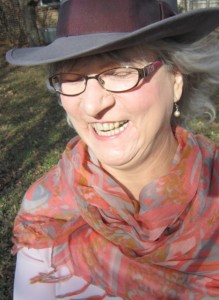 Bio:
Sally Felt writes funny, sexy stories about people who have a thing or two to learn about love. Her mission: write decent-guy heroes who are also dead sexy. She is amazing at starting conversations in elevators and laughing for no reason. If she could be any animal, she'd be an otter, because they play all the time. Or maybe a llama, for their lush eyelashes and ability to spit.
Sally is smart enough to live in Texas, where hot is as much about the men as the weather. Still, she thinks bow ties are cool.
♥♥♥♥♥♥♥♥♥♥♥♥♥♥♥♥♥♥♥♥♥♥♥♥
Website: http://sallyfelt.com/
Twitter: https://twitter.com/sallytex
Facebook: https://www.facebook.com/sally.felt
Pinterest:  http://pinterest.com/sallytex/