I am very excited to have Anne Lange on Dey For Love today! Yay! Her new book looks and sounds sooo hot hot! Can't wait to read it!   –Kara xxooxx
Have you ever wept over a character?
When I'm reading other books – yes absolutely. In my own work, only once so far. In the early drafts of Worth the Risk, there was a scene where Molly physically said good-bye and left Tanner, it was very emotional [for] both of them. I cried writing that scene and every time I worked on it. That scene is now long gone because I eventually took the storyline in a slightly different direction from the original draft.
What genres (or sub-genres) have your explored? Which do you find the most challenging? Why?
I started out with contemporary erotic romance (just m/f).  I am currently exploring romantic suspense and paranormal (shifter) — I'm actually combining all three. It's the RS element that I find the most challenging.  I think it's the pacing and trying to build the appropriate level of suspense that's the most difficult – trying to create a story-line where a variety of questions keep the reader turning the page to find out what happens next.  I'm also writing more erotic romance, delving into ménage, and light BDSM.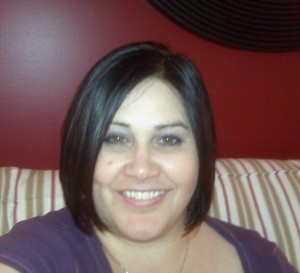 How do you know when you've hit your zone?
When I look at the time, and realize I've forgotten to eat or take a bathroom break for the last few hours.
Do you have a daily writing ritual?
Yes, after I get home from the day job, get the family fed and check my email etc. I sit in front of my screen and pray for the words to appear.  LOL :).  I would like to say I write each and every day, like clockwork.  After all, we're supposed to strive for 1000 new words per day right?  Unfortunately, that doesn't happen for me. It's not that I can't make the time, but I need to be "in the mood".  If I'm not, I will look for every excuse to procrastinate because the words just aren't there.  "Oh look, there's only 60 minutes till bed time, no use starting now."  I'm like a 5-year old being told to sit still – not possible. However, if I am in the mood, I can pound out 1200 words in an hour.  They simply flow.  I tend [to] wait for those moods. But, I'm also pretty good under the pressure of a deadline, somebody else's, not a self-imposed one. Those are too easy to ignore. 🙂
Are you a plotter, a pantser, or a hybrid?
I'm a hybrid now.  I started out as a complete pantser – Worth the Risk was definitely written that way, and I still write individual scenes that way, especially the first few.  But now I stop and think it through a bit, pursue the character's' goals somewhat.  I'll never plot the whole story out in great detail – just jot down ideas. But because I'm working on a couple of series now, I need to have a general idea about the storyline and main characters in each book before I venture too far down the path of any one story.
Do you prefer to write novellas, short stories, or full-length books? Which do you prefer to reading?
Worth the Risk is a novella (approx. 26k – quick read!).  My current projects are all longer, between 60-70k.  Although I read all lengths, I prefer full-length because I like to spend time with the characters, get to know them, live with them for a while. I love series.
As for writing (laughs), I should probably stick to novellas, because I tend to get bored with the story, and start thinking about the next one. Maybe stuck is more accurate. I think my muse goes on a vacation around the 30k mark. Then I have to struggle and push myself to get back on track and get to the 65k mark.  But once I finally get there, I feel like I actually wrote a book and not just a story.  That's probably why I started to do a teeny bit of plotting.  When you sit looking at the screen saying "now what" it can sometimes get discouraging when the answer doesn't immediately appear before your eyes.
Pick a first book to one of your series. When did you get that hunch that told you these characters would continue on in another book or that their story wasn't entirely done? Did you choose the same main characters or did you explore some supporting characters' lives?
My next book to be released is called Friends with Benefits.  It's a ménage.  I actually started writing this book four years ago, stopped, and then picked it back up and finished it a few months ago. It was while I was completing it that I knew it would become the intro to a series.  I wrote a particular scene in that book, which introduced this guy and his family's club to the main characters.  That particular character and his club intrigued me so much that I immediately knew we'd be seeing him again.
Why did you write this particular story? Was it simmering peacefully on the back burner or did it startle you like a kitchen flash fire?
Ah, my inspiration.  I actually wrote Worth the Risk in response to a submission call for Canadian themed stories.  Since I'm Canadian, I figured I would take a shot.  The guts of this particular story is based on a true-life event–mine.  What happens to the heroine is based on what happened to me a number of years ago.  Although, I wasn't that young or even single at the time.  And, as it normally does with such events, they happen for a reason, fate steps in and without it; future events or precious gifts wouldn't exist today. I know I'm thankful every day for how things have turned out for me.
Author Web Page/Blog: http://authorannelange.com/
Facebook: http://www.facebook.com/Anne.Lange.Author
Twitter: http://twitter.com/Anne_Lange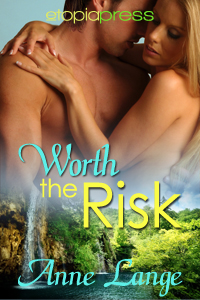 Title: Worth the Risk
Even the hottest sex might not be enough to ease the pain of the past…
Molly Simpson arrives at a beautiful provincial park, ready to spend the May Two-Four holiday camping with friends. This weekend is the highlight of her year—or it was, until Tanner Daivies showed up. Her high school crush is all grown up, sexy as sin, and he's demanding answers—answers Molly isn't sure she can give him. She had her reasons for leaving him all those years ago, but now, sex with Tanner is scorching, and when they're together, it's clear they were never meant to be apart. But the past doesn't want to stay buried, and Molly isn't sure reliving it is worth the risk…
Author: Anne Lange  
Genre: Contemporary Erotic Romance
Publisher: Etopia Press , Length: Novella, 26,491 words
 Video Trailer: http://youtu.be/FSWowrcF3a0
Available at: