This one is on my list to review. Gotta love a story with a hot Sheriff named Logan, right?  It sounds yummy already.
FROM WITHIN by Rose Gorham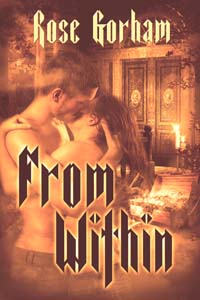 When her aunt dies in a strange accident, Maggie Taylor inherits more than an old house. She inherits a mystery. The day she moves into her supposedly haunted home, she surprises an intruder. Although the burglar escapes before Sheriff Logan McBride arrives, Maggie can't escape the jolt of awareness the ruggedly handsome sheriff inspires. But can she open her heart to a new love?
Logan doesn't care about ghosts. It's Wellington House's pretty new owner who catches his eye. When a knife-wielding figure attacks Maggie, he's determined to keep her safe, especially after they discover that it's not only a burglar who's interested in Wellington House. Several people are eager to purchase the storied home.
When bodies start dropping, Logan and Maggie realize just how deadly the secrets of Wellington House are. To solve the mystery, they must put their love, as well as their lives, in peril.
AMAZON LINK: KINDLE From Within
and PAPERBACK From Within
ROSE GORHAM BIO (via Amazon)
I live in a small town in Missouri with my husband Larry. We have three grown children, four grandchildren and two great grandchildren.
My enthusiasm for romance novels began years ago when my sister-in-law gave me a Harlequin Romance; Dark Star by Nernia Hilliard. That's all it took. One book and I was hooked.
Love stories sustained me for awhile but I wanted more. I wanted mystery, mayhem even a murder or two. So I started reading Romantic Suspense. As far back as I can remember I've always enjoyed people watching and would make up little scenarios about them in my head. What I hadn't realized was that those mind exercises were my prelude into writing. But it wasn't until after I had my third child that I put pen to paper. My husband worked the night shift; once the kids were tucked into bed, I'd take out my pad and start writing. At that time I considered myself a closet writer because I didn't want anyone to know I was attempting to write a romance novel. In a moment of bravado I told my brother Joe. I thought he'd laugh, instead he encouraged me. I found it easier after that to talk about my writing. I bought a computer and joined HeRA a chapter of Romance Writers of America. With the help of another writer friend, we formed a critique group.
.
My favorite hobbies, walking and taking pictures of animals and nature help to clear my head when I'm having a problem with a plot or when one of my characters gets snippy and decides to take over the scene. I write Romantic Suspense because I love the genre. It doesn't take much to stimulate my writing juices before I'm building a plot, have a victim in mind, and am choosing a weapon. By the way, never pick up an ice pick at a garage sale turn to your husband and say, 'Hey, hon, wouldn't this make a great weapon?" People tend to eye you suspiciously.