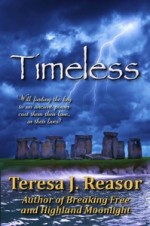 Timeless by Teresa J. Reasor (www.teresareasor.com) is a paranormal romance with suspense and intrigue. Here is a blurb from the book's Amazon page:
Archaeology student, Regan Stanhope, lands the chance of a lifetime when she's chosen to work on a summer dig in Loch Maree, Scotland. The ancient monoliths hidden beneath the loch are the most important discovery since Stonehenge. And for seven hundred years, they have been waiting—for her.
Saturation diver Quinn Douglas is contracted to recover some of the megaliths from the loch's bottom. The job will breathe life into the struggling salvage business he and his brothers are building. But from the moment he arrives, Quinn is plagued by dreams and feelings from a past he did not live. Or did he?
Regan and Quinn are drawn to each other as they research the monoliths and the reason behind their shared visions. But both sense something mystical at work, delving into their minds, manipulating their emotions. And when they finally discover the monoliths' extraordinary secret, they know they must seal them away from those who are desperate to unlock their power. Even if it means remaining caught in a timeless struggle between the past and present forever.
My Review:
I like books that employ flashbacks, but the many methods authors use to enrich their stories with scenes from the past can often fall short of intended goals. Teresa Reasor has a knack for blending the present with the past in a way that strengthens and fleshes out the story while also creating more compelling, sympathetic characters through this technique.
The story of Regan and Quinn is intertwined with Coira and Braden's magical tale. The story's mythology was irresistible for me as a reader. I wanted to know more about the characters' lives, the secret of the stones, and how these elements would intertwine. I was especially impressed with the high level of Reasor's detail (and research) and the time she took to 'immerse' the reader in Regan's world; namely, the underwater archaeological find she intently explored. I felt as though I was there with her amidst the murky water, worrying about her tank, feeling the sensation of bubbles around her, and seeing the cloudy silt that rose up and obscured her vision. I found myself really drawn into the environment as well as the intrigue, trying to solve the mysteries before they were revealed to me.
Timeless is fast-paced and tense when it needs to be and at other times slows down to capture the inner struggles of its characters.  Reasor covers several characters' motivations very well–something else that I really like in a story. Character development is believable and enjoyable. I had no problem suspending my disbelief within the magical world Reasor created. A worthwhile read! Five hearts.