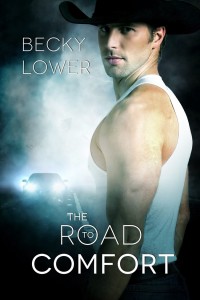 BLURB FROM AMAZON:
Juliette St. James has only done two impetuous things in her life. The first resulted in her becoming a single mother at age 18. Now, she's embarking on a cross-country trip to celebrate becoming an empty-nester. Not sure of what she will do now that she's flying solo, she comes face-to-face with her worst nightmare—a cowboy.
When ex-bull-rider Cyclone Kelley heads out on his horse, the last thing he expects to find is a damsel-in-distress parked alongside the road. Especially one that resembles his first crush—Brigette Bardot. He doesn't need or want a complication in his life. His wife died while he was chasing the elusive dream of fame and fortune on the rodeo circuit. Blaming himself for her death, he quit the rodeo and returned to Nebraska. Now his mantra is "love them and leave them smiling."
They are attracted to each other and decide a one-nighter would be a good idea. After all, what happens in Comfort, Nebraska, stays in Comfort. But when Juliette's car gets sucked up in a tornado, she's forced to spend a week in the town instead of just one day. While neither denies their attraction, they both realize that a week together will change the course of their lives forever. They are both forced to decide if love is worth gambling on what could be. Or if tornadoes, and cyclones, are better left alone.
My Review:
The Road to Comfort by Becky Lower: 4.5 stars
This story starts with Juliette St. James stuck in the middle of nowhere, stranded in her broken down vehicle. Well, I can relate to that. I didn't have Cheetos, but I did have a little less than half a bottle of water (on the hottest day of Texas summer). Instead of a tornado, there were vultures circling. Seriously anyone would panic. A cute Nebraskan rodeo cowboy didn't help me but, luckily, a very kind Denton policeman did. (The kicker: I was on my way to the unemployment office, feeling like a failure after being laid off from the best paying job I've ever loved.)
Yes. I can relate. Completely.
Not knowing where your life is going and then physically not knowing where the heck you are–for real–or how to get help? Well, that can transform a bad situation into the very worst. Or it can bring you an epiphany. Maybe that is why I have a fondness for this character, even though Juliette was pretty frustrating at times. Juliette and Cy's thwarted hookups really tested the fine line between sexual tension and scream-at-the-book frustration. But a devilishly clever writer can pull it off; Lower knows just how much her reader will take and keep reading. It becomes a war cry of "after that–these two better hook up!"
That's because Cy kept me committed to this story. Charming, uncomplicated, wounded, sometimes overeager–but hey, he's got a horse–all adds up to a hero who kept it interesting. Plus, the town's characters were engaging. Molly, Dolly, and Lolly are protective, sweet, and comical.
Juliette is a college professor drawn to a man light years away from her life in almost every way except body and heart. Will her academic mind comply? Should it? That's for you to decide when you read it. Enjoy.
I only review books I like. I give Becky Lower's "Road to Comfort" 4.5 stars. –Kara