Review of Crimson by Nickie Asher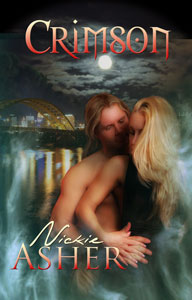 About the book (via Amazon):
Violently turned vampire against his will and plunged into a paranormal world he didn't believe in, Alex Connor learns his problems are only beginning.
On top of the challenges of adjusting to unlife, Alex's world tightens around him. If being rejected by the woman he desires, tormented by a cunning enemy, and hunted by a man bent on eliminating the local undead population isn't enough, events go downhill from there. Topping off his difficulties are a ruthless sire with an agenda hinging on Alex's skills and a young woman who uncovers his secret and won't take 'no' for an answer.
Note – this book contains graphic violence and explicit sex. Intended for mature readers.
AMAZON LINK:Crimson
Dey for Love  Review:
More than a romance–but with plenty of it–Crimson takes the hero on a journey to overcome seemingly insurmountable disadvantages with action packed fights against supernatural beings, plenty of sexual tension, and struggles with unbidden yearnings. Complex villains and empathetic main characters made me keep reading.
This is not your ordinary formulaic romance story. There is plenty here for readers who are tired of being able to figure out each character arc and plot point. Nice twists here and there. The love scenes are well-crafted and carefully thought out. They flow effortlessly and draw the reader into the moment. Hot descriptions tantalize the reader as the hero and heroine seek out each other and kindle a growing, undeniable bond. This story left me breathless and wanting more.
Short scenes with lots of action, prudent descriptions, and an emphasis on dialogue create the sense of watching a movie and imagining various shots. I believe this author would do well writing screenplays, and perhaps, already has, because this story would be easy to adapt for the screen, I think.  I give it 4 and half hearts.